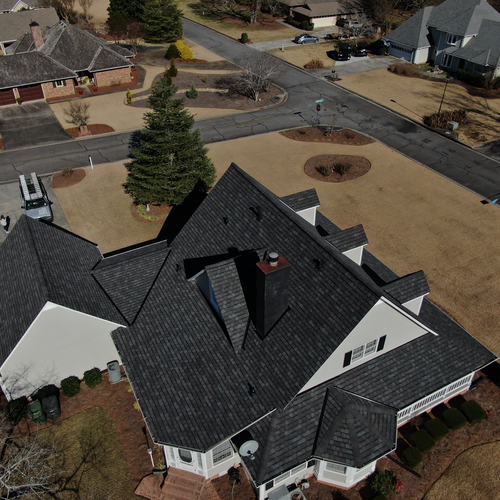 Enjoy A Brand New Roof
Getting a new roof is always an exciting endeavor to take on. Fresh new materials offer a new roof life and there are a number of style options out there that can provide the desired aesthetic that appeals to you. Nelson Roofing will be able to guide you through your installation options so that your roofing project will have a satisfactory end result. When you require expert residential roof installation in Cartersville, GA we're the company to contact for quality and secure results. Our friendly staff is available to speak with you at any time regarding your preferences and goals. Speak to us soon at 1-844-635-7668. We look forward to our communications.
Roof Installation Services
High-Grade Asphalt Shingles
Our roofing materials are unlike others as they provide heightened protection and durability. We are certified with Atlas Shingle Manufacturer which is the only shingle on the market partnered with Scotch Guard and backed with Mike Holmes (AKA Holmes on Homes.) Therefore you can expect materials that are reputable and reliable for your property. The advantages that our material holds are unique in that they are more enhanced than your standard asphalt shingles. These shingles are able to come in various colors and larger sizes and can even mimic the look of premium roofing materials such as wood shake or slate. As far as protection they hold a Class 4 impact resistance rating which means that it can withstand being hit by hail and flying debris as well as withstand wind speeds up to 150 mph. Due to its makeup of Polycore Technology, it is a flexible material and can withstand bend and breaks with cold weather. Even with severe weather, it will maintain its thermal stability. When it comes to quality roofing materials expect enhanced performance with our shingles. If you'd like to learn more about your options reach out to our knowledgeable team about your roof installation in Cartersville, GA.
High-End Tile Roofing
Perhaps the most known roofing material out there based on its high roof life, tiles roofing is considered a luxury roofing material that boasts a number of benefits. Firstly, it's able to last 75-125 years yet can reach as an even higher amount of roof life with proper conditions! Tile is able to come in many styles, terracotta, synthetic, clay, and ceramic to name a few. They can increase the aesthetic of your property with the many different shapes, sizes, and color options available for your choosing. As far as protection, these roofing materials hold up well against hail, rain, sun exposure, and severe weather conditions. Since they can handle hot and cold temperatures they are ideal with changing climates. With tile roofing, you'll be able to elevate the look of your property and enjoy not having to bother with a full-on roof replacement for generations to come. When you're looking to see what type of tile roofing materials will best match with your property specifications entrust the guidance of your team of roofers. You'll be able to get the ideal roof that you desire with secure installations thanks to our trained and certified workers. Contact us today to initiate the processes of getting a pristine roof!
Our Team Is Ready
Our team at Nelson Roofing is ready to provide you with the new roof that you've always wanted. With over 30 years in the roofing industry and being backed up by the BBB you can expect results that will last with minimal maintenance. We strive to provide integrity with every roofing service and with our expert craftsmanship installations will be top notch. Enjoy pristine and secure residential roof installation in Cartersville, GA. We're available to confer with you at any time about what materials and styles are best for your property so that you can get the end results that you desire. Contact our team to get started at 1-844-635-7668 today.