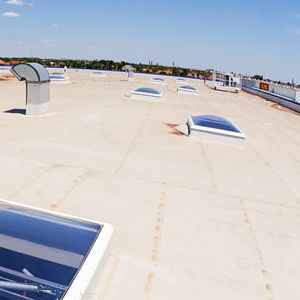 Get Flexible Roofing
Thermoplastic Polyolefin is a single-ply roofing membrane that can be a great addition to your commercial property. Known for it's bright white color it will be a great option in reflecting light and keeping energy costs low. Our team at Nelson Roofing is here to provide secure TPO installation, TPO repair, and TPO replacement when you require services with your TPO roofing in Atlanta, GA. Give us a call at 1-844-635-7668 to learn more.
About TPO Materials
TPO roofing is made of a single layer of synthetics and reinforcing scrim which is a good option for flat roof coverage. With reinforced TPO you'll have more flexibility as it will be able to comply with temperature changes and thermal expansion and contraction. This means that the roofing won't be as likely to crack or become hard. This roofing membrane is typically manufactured with wider sheets and is lightweight which makes it easier to install with fewer seams. As far as protection, they contain cool roof pigments, UV stabilizer, and other components which will protect from the damaging effects of the sun. Not only this but because of this cool roofing ability, the building will be able to have more stable building temperatures which are advantages to the energy used with HVAC systems. Ultimately, cooling costs will be lowered. TPO also has a good aversion to roofing punctures as well which can be an advantage in avoiding leaks. It will resist ponding wear as well as wind uplift. Finally, this roofing material can last between 22-30 years and can have a warranty of up to 25 years. If you're interested in TPO roofing in Atlanta, GA contact us today.
Contact Us Today
Nelson Roofing has over 30 years of roofing experience and strives to provide integrity and expert craftmanship with each of our roofing endeavors. Our trained professionals have the tools and equipment that will provide a secure foundation for your roof. When you're looking to get services with TPO roofing on Atlanta, GA for your commercial building we're the company that you can trust for top-notch end results. Speak to our friendly staff today to get started at 1-844-635-7668.