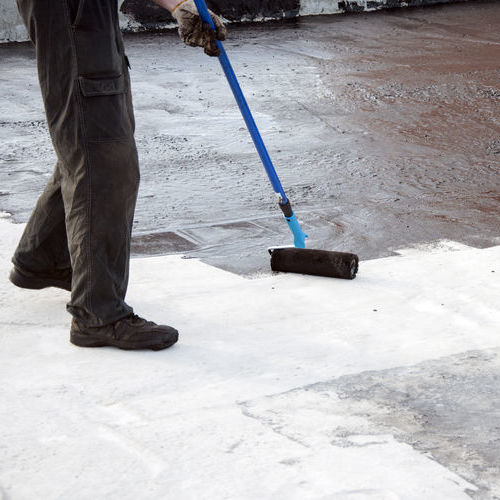 Create an Extra Layer of Protection
Nelson Roofing has over 30 years of experience in provide our commercial clients with added protection with their roofs. When it comes to increased durability and roof life getting a flat roof coating in Atlanta, GA with our team of professionals is the way to go. If you'd like to learn more about our services and materials get in touch with us at 678-571-0375 today.
Flat Roof Coating Application
Flat roof coatings can be liquid sprayed or roll-brushed onto your roofing membrane. These coatings are essential in providing an extra layer of protection for your roof to seal it from outside climate and temperature changes. Coatings can range in materials and protective benefits yet ultimately will be able to prevent ponding water, offer protection from the sun, and provide thermal resistance. With a roof coating's reflective abilities it will be able to block out UV rays and the premature wear seen with sun exposure. A roof coating will be able to fill in any cracks and seams of your roof and can, therefore, act as a type of repair for minimal levels of wear on your roof. This can be helpful in preventing leaks and water infiltration. As far as roof life, your flat roof's life expectancy can increase by 10-15 years with the application of a flat roof coating. This will allow your roof to reach the end of its natural roof life more easily without the need for repairs of replacement until then. What's more, they can be reapplied every 10-15 years to increase roof life. Roof coatings can match with different types of roofs which can range from silicone to TPO. Ultimately it will be best to get into contact with a professional roofer to see what type of flat roof coating in Atlanta, GA will match the best with your roofing specifications and needs.
Reach Out to Our Team
Nelson Roofing is ready to secure your roofing materials with a flat roof coating in Atlanta, GA. Get the added roof protection that your property deserves so that stable conditions can be met over the years. Our staff is here to help you at any time, get set up with us at 678-571-0375 soon.